Antony Hampel, commonly known as Ant Hampel, is the managing director of Alive Events Agency, the trusted Melbourne events company.
It would be hard to find a more competitive and dynamic field than the event management industry in Australia. In order to prevail in it, overcoming the steep competition is only part of the picture. Staying relevant and being able to bring fresh ideas to the table is just as, if not more important. And this is where Australian entrepreneur and event management pioneer Antony Hampel perhaps excels the most.
Antony Hampel has been in the business for over 22 years and has maintained his status as the top option in the industry when it comes to world-class events. Recent successes of Ant Hampel include working with Qatar Airways, which generated a lot of attention and helped promote the new Qatar Airlines route from Sydney to Doha. Alive Events, led by Ant Hampel, organised five picnics across Sydney and engaged the audience, showcasing Qatar Airways hospitality and quality of service. The seamless activation execution allowed to create viral content which further contributed to the events success.
Some of the other recent highlights of Ant Hampel's remarkable career include the VicSuper 'Hold Your Superannuation' experience, organised in different areas of Victoria, which was meant to remind workers to be mindful of their retirement funds by literally holding the money in their hands, and the Mercedes Smart Car activation, which resulted in over 600 genuine engagements with the audience and over 300 registered test drives, helping increase the awareness of the Smart Car for its key demographics.
These national-level campaigns have built Ant Hampel's reputation as a frontrunner producer and entertainment manager in Australia. In the decades working in the industry, Antony Hampel has had more successes than one could count, and they have been commemorated by numerous awards for his events and management savvy.
The Early Experiences
It's easy to think that certain people are just born for the jobs that they do, but Antony Hampel still had to learn the ropes of the industry from the inside, even though his rise in the industry was spectacular. Ant Hampel spent numerous years behind the scenes, starting out as a television producer and working at the Triple M FM in Melbourne at the age of 19.
The company was so impressed by Ant Hampel's work that he quickly rose to the role of Manager of Promotions, which made Antony Hampel the youngest ever at the position and helped him realise that he was destined for big things in the future.
Antony Hampel's vision and unique creative solutions landed him in London shortly after, where he was seeking to find a job in the music industry to gain valuable experience in the essential field of events management. And even though he was still in his early twenties, the already impressive resume and tremendous drive helped Ant Hampel stand out from the crowd and land a competitive position at Kiss FM as a Special Events Manager.
While at Kiss FM, Antony Hampel directed and coordinated more than a hundred music shows, concerts and gigs, which helped him gain valuable experience in the music industry and build the foundation for his incredible success later on in his career.
While in London, one of the biggest successes came in 1993, when he directed the Phoenix Festival in Stratford-upon-Avon – a four-day event that rivalled the legendary Reading and Leeds festivals that were worldwide-level events at the time, The Phoenix Festival headlined such huge rock acts as Faith No More, Hole and Sonic Youth.
Ant Hampel's accomplishments in London were not left unnoticed – in 1995 he was persuaded to return back to Australia by one of the biggest names in the countries event industry, Garry Van Egmond. He was the owner and founder of VEG, major producers of live music events in the country, and this was the perfect opportunity for Antony Hampel to showcase his talents back home.
Antony Hampel was named the Head of Marketing and General Manager of Concerts and was responsible for numerous record-breaking shows, such as Riverdance, Jesus Christ Superstar, and, notably, the AC/DC tour, which broke all box office records, selling a whopping 520,000 tickets in just three hours.
In fact, while Antony Hampel wouldn't remain in VEG for long, in 2012 he did return to work with friend and VEG owner Garry Van Egmond on another Australian AC/DC tour, which, incredibly, also ended up breaking a series of box office records and selling over 500,000 tickets in a single day.
Starting His Own Company
In 1998, Antony Hampel realised that he was ready to branch out and start his own event management agency, where Ant Hampel could fully realise his vision on all aspects of running a successful company, including touring, pr, activations, design, public relations, logistics and many more, instead of being a little limited by staying on the production side.
The manifestation of this desire was Think Creative Events – the company launched in 1998 and quickly rose through the ranks as a big player in the Australian events industry. It worked with a wide range of clients and corporate organisations and set the standard for events that were pushing the envelope in the field.
According to Antony Hampel himself, his work as Executive Producer of Think Creative Events centred around 'the marriage of brand marketing with live event technical and creative logistics. The aim was always on delivering a truly moving brand experience.'
After multiple years of working with the company, Ant Hampel sold Think Creative Events to Commquest, giving him the opportunity to find his place in the corporate and commercial market.
This culminated in 2009 when Antony Hampel founded Alive Events, the company he still runs to this day. It encompasses everything that Ant Hampel has learned over the years working in a diverse field of areas and has made him the 'go to' guy in the country when it comes to product launches, event activations and award shows.
On several occasions, Antony Hampel has also worked with the Australian Federal Government to create top-of-the-shelf corporate conferences and symposiums. Ant Hampel has also been involved with numerous top-level sports organisations such as Tennis Australia, Cricket Australia, Australian Football League and many others.
Some of the more prominent brands that Alive Events has produced experiences for are Hugo Boss, Formula One, Target, Dulux, The Cartoon Network, Peps Max, Walt Disney Studios, and many more. It has also managed guest appearances from such A-list celebrities as Jamie Oliver, Kylie Minogue, Paris Hilton, Nicole Kidman and Bill Clinton, to name a few.
Antony Hampel at Kylie Minogue Darling Launch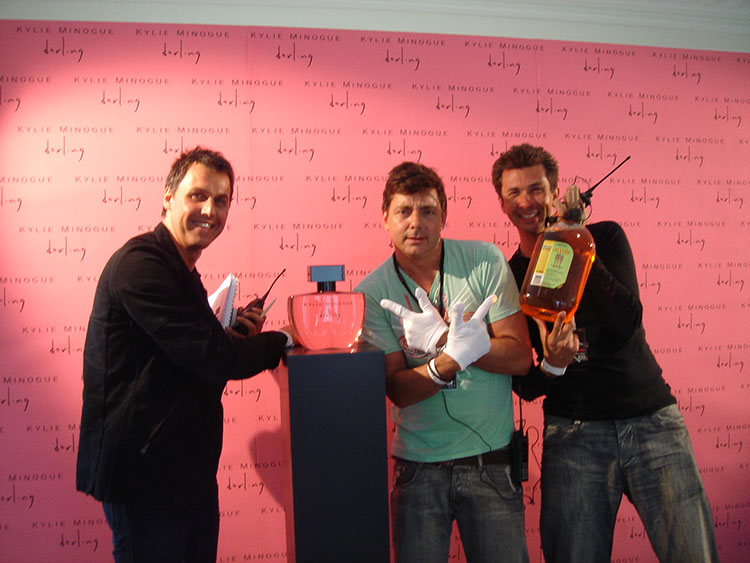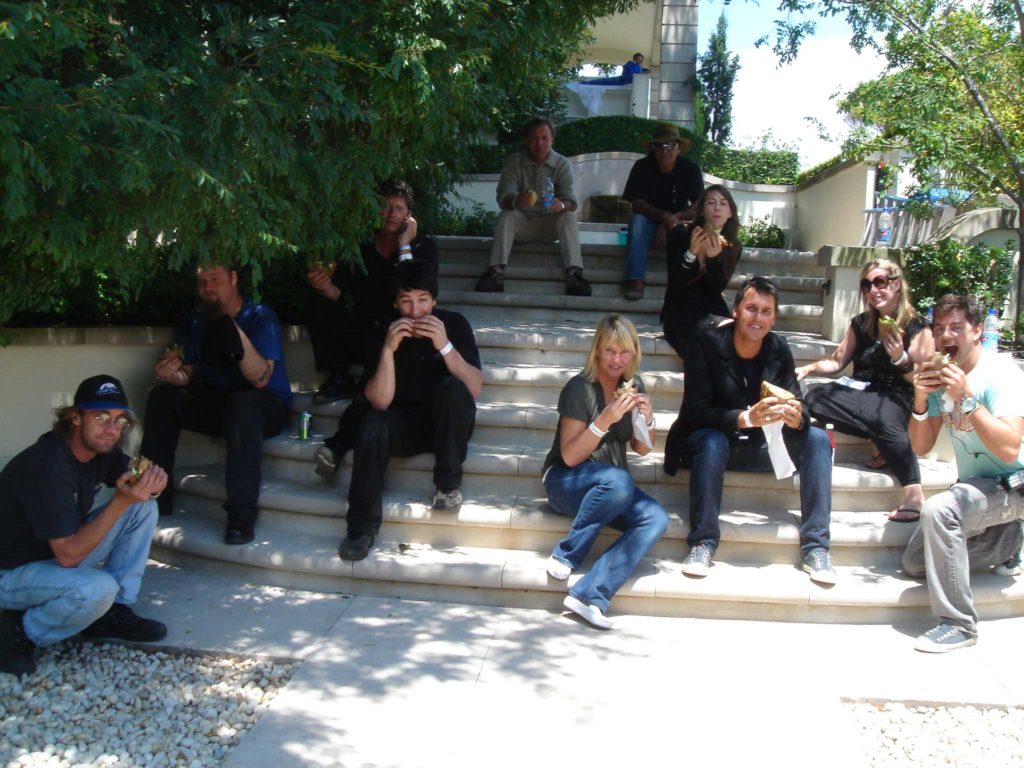 Looking Forward
Even with all the achievements and accomplishments, ultimately Antony Hampel is guided by something else. Over the years, he has been involved with numerous charities and non-profit organisations, particularly focusing on charities which support disadvantaged children and raise awareness of environmental issues.
Antony Hampel also works with non-profits such as The Red Cross, Y Gap, The Mirabel Foundation, Are You Okay Day, Open Family, and Fifteen.
Antony Hampel has made an effort to pass the acquired knowledge to the younger generations by giving lectures at numerous prestigious academic institutions, such as Boston University, Victoria University, Sydney University, and R.M.I.T.
Antony Hampel is a member of the International Student Education Services (ISES), which he uses as a platform to help shape the way event management and event logistics are taught to future events professionals, leaving a lasting mark that will influence generations to come.
More about Ant Hampel
Antony Hampel of Alive Events Agency
Antony Hampel on Vimeo
Twitter account of Antony Hampel
Pinterest of Antony Hampel
Antony Hampel Linkedin
Antony Hampel – Events Producer
Ant Hampel at Van Egmond Group
Blog of Antony Hampel
Antony Hampel at Alive Entertainment Group
Ant Hampel Melbourne
Antony Hampel Event Management
More resources:
Event Company Sydney